When moving to the north-norwegian outback, better known as the other end of the world, it was super important to me to still be able to have access to regular lessons. Both, my horses and me, have a serious interest to continue my development as a rider.
So, my original plan was to drive down with them to Bent Branderup at least once a year and stay for some weeks. Already in the first year, two unforeseen coincidences were colliding and made my idea a bit difficult. This year, Tromsø got a much earlier winter than usual. And being pregnant now 28 weeks, that made the planned 20 hours trip not easier…. Additionally, we bought a farm and got a bit busy here, too.
Cancelling? Not even thought about it. So, my husband put all his effort in preparing an outside arena for me…. And finished just in time for starting the lessons with the master online!
---
How do online lessons work?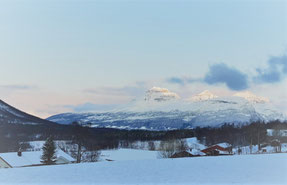 Very easy, actually. I use real time lessons via skype.
Meaning, the rider is connected via Face-Time or Skype (or any other service that works for you) with the teacher. There is not much difference in having a lesson online than in a face-to-face lesson.
You do not have Wi-Fi in your riding arena and no camera robot? Neither have I. Let me share a couple of tips with you how to make it work anyway.
---
Technical Set-Up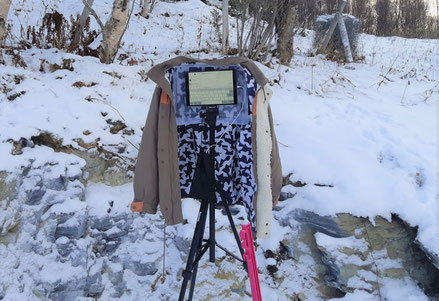 I do like simple solutions. It's enough if it works, I don't need more 😉 There are many fancy solutions on the market, but here's my simplified version:
Some of my students are using their smartphone with Skype. If there is a good connection in your area, that works fine. In the area where I am living now, that was sadly not good enough. The upload via smartphone was too slow.
What works well though is using a mobile router. I decided for a Huawei Mobile Wi-Fi E5577. There are a couple of even stronger ones on the market, but I chose an economical variation. The router got a data card, that is connected to my mobile phone contract. Costs: 3€ per month.

For a clear picture, I am using my iPad. The camera is much better than in my laptop, and I am having an iPad that is mainly used for my work emails while travelling. Combined with an old tripod – and tada, the main set up is done. This set up is placed in one corners of my outside arena. Placed like that, most of the arena is in the picture and I can well ride on 2/3. The other 1/3 I am avoiding for the lesson time. The Pixem or Pixeo camera robot is of course a very nice option too. But it is very pricy, and for me no option as I need to use it outside in all weathers.

It is important that I can hear the instructions well and immediately. With too much delay, there is no use in having live instructions. That is why a Bluetooth Headset is wonderful. My favourite here is a headset of Plantronics, the PLT V5200. It has a Bluetooth adapter that is via USB connectable to a normal PC as well, and as I am not only taking lessons but teaching some online too, that was important to me. This model is well sitting too, so no problem in full speed canter.
The amount of snow and cold is impressive up north the last week. That is neither a problem for the ponies, nor for me. But for the devices batteries it is. I fixed that issue with a normal power bank, providing extra battery during the lessons.
---
Pro's & Con's
Advantages
For me, travelling time, economy and freedom. Even from Germany or Gotland it always took us 10-13 hours. Meaning, my ponies and me where always a bit tired when we arrived and needed at least two days to get supple again. I can continue to be with my family and continue taking care of the farm and customers. If I am abroad for lessons, that is not possible. Too, I save the travel money, a room for me and stabling for the horses. Both, my horses and me, are much more relaxed at home. Therefore, I get more to work on the things I have on my list, instead of fighting with my own nervosity.
Disadvantages
There are some disadvantages to mention, too. One of the biggest: I cannot watch Bent working with his Ponies himself, or the lessons of interns and other students. Both is quite educational, and I miss that part of the experience. Another point is that it can be a good help if the teacher can just demonstrate something or show you a mistake. That does of course not work online. I will not stop having offline lessons. But it is a wonderful addition.
---
Our topics last week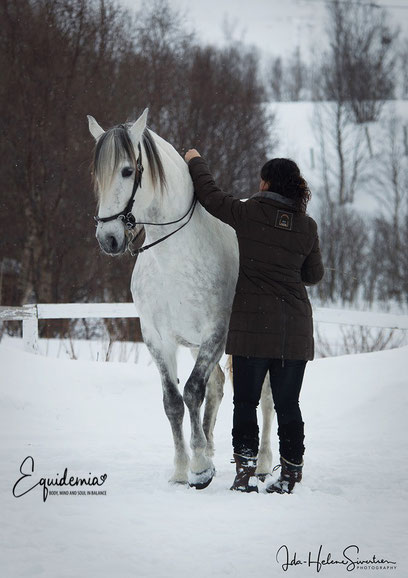 For the last week, I decided to stay on the ground completely. Segovia enjoys work in Hand, and Despino is doing the same thing bit less with a Caveson in Groundwork. It is very good to sometimes update the things where I feel safe in. Awareness is one of the main things in being with horses. I feel good in having another pair of eyes on my 'safe' routines, so that routine is not creating bad, unnoticed habits.
In general, I have two very different horses. From their natural abilities, they could not be more different. My Spanish mare is extremely moveable in her small joints. Transferring the energy created by her strong hindquarter into a lift of back and shoulder though is extremely difficult for her. Lengthening her steps without loosing her back is the main topic in her education. Offering tölt in all gaits by nature, she has developed her natural gaits from schooled gaits, and we are still working each day to get a wider range and flexibility in her movements. Despino is on the opposite side. He has 3 unstraight legs, but a quite strong back. Letting the swing through is easy for him. Bending the small joints very difficult. Over the years, he got a beautiful range in his movements. But still, he is very delicate to play with. While the petit trot is his favourite movement, too much of taking this into piaffe is making his joints stiff and puts him on the shoulder. While schoolwalk is the strongest help for Segovias development, it is the most difficult for Despino. It is really rewarding to work with so different bodies and minds, and I am grateful that they put their effort into my education. Playing with the same tools in very different manners with these two is very rich for me. Let's see what we do with that next week.
---
Interested?
You like to test online lessons yourself? 
I do offer online lessons, and some of my collegues do, too. Don't hesitate to simply ask for it. I offer both, single lessons and weekstudent weeks online. Click here for more information.